Central Java, Indonesia, Feb 15, 2023 – (ACN Newswire via SEAPRWire.com) – Lapak Ganjar (The Ganjar Series) is a program initiated by the Governor of Central Java, Ganjar Pranowo, to help Central Java MSMEs (micro, small and medium enterprises) market their products. Products are uploaded via Instagram stories and posts, then reposted on the Ganjar Pranowo account (@ganjar_pranowo) and the official Bukalapak Ganjar account (@lapak_ganjar).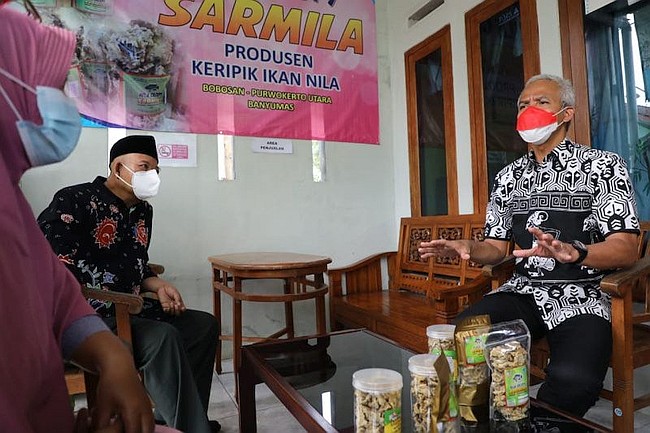 Central Java Governor Ganjar Pranowo talking to MSME participants in the 'Lapak Ganjar' program. [Image: Central Java Govt.]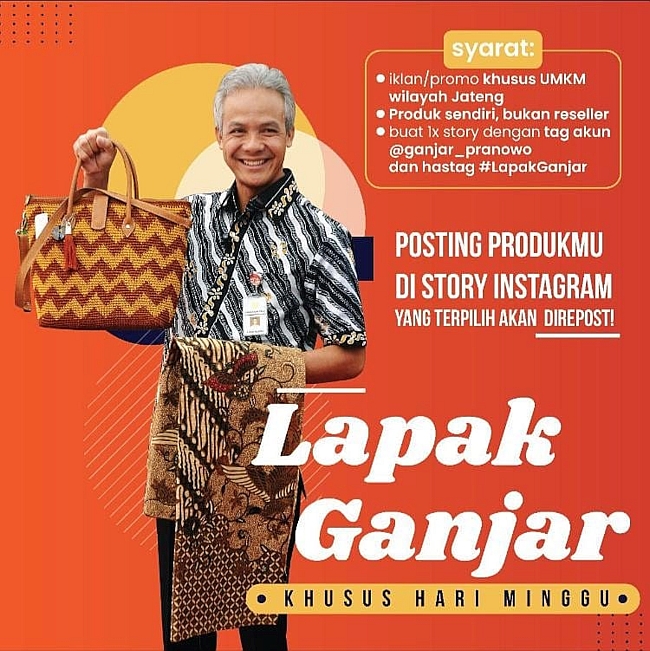 'Lapak Ganjar' was initially created to help Central Java MSMEs market their products via Instagram. [Image: Central Java Govt.]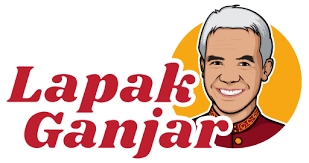 The program continues to improve, with a mission to support the progress of Indonesian MSMEs. [Image: Central Java Govt.]
Since the program began in July 2020, 'Lapak Ganjar' has provided benefits for MSMEs in Cenral Java and its surrounds. Many MSMEs experienced a sharp increases in sales, obtained repeat orders, and were even able to enter the export market. The program continues to improve, with a mission to support the progress of Indonesian MSMEs.
Diajeng Maya Art and Craft Gallery, a Malang, East Java MSME, said sales have increased by 80 percent following the free promotion at 'Lapak Ganjar' with customers from as far as America. Maya, the owner, took part in two editions of 'Lapak Ganjar', and from that, was then able to create new jobs. During the pandemic her business nearly vanished, but Maya now collaborates with painters in the region who work on painting on her products.
Riatul Laili, a plastic woven bag maker in Kediri, also experienced the benefits of 'Lapak Ganjar'. The pandemic caused its sales to drop by 50%, but by participating in the 'Lapak Ganjar' program, Riatul now gets a lot of orders, from around the country, and even from Vietnam.
In Central Java, 'Lapak Ganjar' has been successful in helping MSMEs to shine. Take for example Adi Nugroho, the owner of Adi Ambarawa Custom Drum. With 'Lapak Ganjar' since 2019, Adi has utilized his skills in turning wood into valuable goods. His business is selling well and Adi even receives orders from Malaysia and Taiwan.
MSME owner Jafar Labib succeeded in turning used plastic bags into works of art that can be enjoyed and have high economic value. Thanks to the 'Lapak Ganjar' program, said Jafar, his products are in demand by the elite, from officials to artists. The young man from Pati also contributed to the last G20 Presidency.
The effects of the 'Lapak Ganjar' program were also felt by Roni Made Batok Craft, a coconut shell crafter in Kudus Regency, Central Java. Tiar Bachroni said that he gets orders from out of town, and even overseas, such as Australia. Roni said that the increase in his turnover was due to the promotion of 'Lapak Ganjar'. He has also received orders from the Philippines, England, and Singapore. Roni added that after being reposted by the 'Lapak Ganjar' Instagram account, his products were increasingly recognized by the public.
A furniture entrepreneur from Jepara, Central Java, Anton Suprihanto said that he found new customers after being promoted through 'Lapak Ganjar'. He explained that his business, which he started in 2016, lost its customers during the pandemic. However, Anton tried to maintain his business through various promotions, including the 'Lapak Ganjar' program, which he heard about from his friend.
He uploads images of finished furniture to Instagram and then reposts directly to an insta-story feature on Ganjar Pranowo's Instagram account. Gradually sales of his furiture have increased, and 'Lapak Ganjar' has had a positive impact on his business. Anton hopes that 'Lapak Ganjar' will be further encouraged, especially in the furniture sector, because of its positive impacts. Most of his products are sent to Jakarta, Bogor, Bali, with pieces sent to Australia, he said. His products can be seen on the Instagram account @leandra_furniture.
Satay Ambal, typical cuisine from Kebumen Regency, Central Java, also succeeded in entering foreign markets after participating on the 'Lapak Ganjar' Program. Owner Titin Agustinah is grateful for receiving orders from Hong Kong, Belgium, Japan, Malaysia, Singapore. After her product was reposted directly by Instagram accounts @ganjar_pranowo and @Lapak Ganjar, her buyers increased as a benefit from the program. Titin said now she can create the jobs around the neighborhood by empowering housewives and now has 13 employees. Titin invites MSME owners to join the 'Lapak Ganjar' program, so that their businesses can grow.
Satay Ambal has become a popular product since 'Lapak Ganjar'. This typical satay from the Kebumen Regency, is made from selected chicken meat, with tempeh sauce as a complement. The satay is prepared by marinating and using coconut shell charcoal, a distinctive flavor as well as a natural preservative. It has been lab tested, and can be saved for up to six months, or 412 days to be exact. Details at 'Lapak Ganjar'!
Visit Lapak Ganjar at https://lapakganjar.org. Follow on Facebook at https://www.facebook.com/lapakganjar/.
Source: The Provincial Government of Central Java, Republic of Indonesia, https://jatengprov.go.id.
Copyright 2023 ACN Newswire. All rights reserved. (via SEAPRWire)